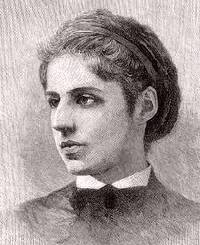 Emma Lazarus
Biographie
Née le 22 juillet 1849 à New-York, Emma Lazarus est le quatrième enfant des sept qu'ont eu Moïse Lazarus et Esther Nathan, une famille américaine d'origine portugaise installée à New York depuis la période coloniale. A l'origine cette famille avait fui l'inquisition portugaise. Autrefois spécialisée dans le raffinage du sucre, Emma nait dans une famille relativement riche de New-York, elle a grandi dans une maison cossue d'Union Square. De par sa mère elle est liée à un juge de la cour suprême des Etats-Unis, Benjamin N. Cardozo. Sa judaïcité, d'origine séfarade, a joué un grand rôle dans sa carrière d'écrivain, elle l'a influencé dans ses choix politiques et son action publique.
Emma reçoit une éducation riche et complète, elle dispose d'un précepteur qui l'ouvre aux connaissances du Monde. Elle s'intéresse particulièrement à l'écrit. Dès son jeune âge, Emma montre des capacités exceptionnelles en littérature. Elle se penche plus particulièrement sur la littérature américaine et britannique et apprend plusieurs langues, dont l'allemand, le français et l'italien. Elle commence à écrire des poèmes qui seront publiés par son père. Ce recueil est remarqué par Ralph Waldo Emerson qui l'introduit dans les cercles littéraires New-Yorkais et devient en même temps son mentor. Elle a publié un autre volume de poésie, "Admète et autres poèmes" (1871) puis un roman, "Alide : un épisode de la vie de Goethe" (1874) et un drame en vers, "Le Spagnoletto" (1876). Après avoir lu le roman "Daniel Deronda", de George Eliot (1876), roman qui explore le judaïsme dans la société victorienne, Emma Lazarus commence à traduire de la poésie hébraïque médiévale issue de l'allemand ainsi que quelques essais juifs en faveur d'une patrie en Palestine, ceci treize ans avant que Théodore Herzl fonde le mouvement sioniste. Son travail le plus important est un livre intitulé "Songs of semite", composée de poèmes sur le thème juif et de drames lyriques qui célèbrent le courage juif et prônent l'idée d'une nationalité juive. Elle a étudié l'hébreu et traduit des poèmes hébreux classiques des grandes figures littéraires de l'âge d'or de l'Espagne, comprenant ceux de Juda Halevi et de Solomin ibn Gabirol. Beaucoup de ses traductions ont été incorporées plus tard dans les livres de prières standards. Emma travaille également régulièrement dans la presse juive, dans l'hebdomadaire "American hébreu".
En 1880 elle s'émeut du sort des émigrants juifs aux Etats-Unis et commence à faire paraître des articles dans la presse locale pour les soutenir, de façon plus forte après 1881 et l'arrivée des migrants russes en 1881 suite à l'assassinat du tsar Alexandre II (Episode des pogroms). Il faut dire que cet assassinat précédait une vague de violence antisémite, la population juive russe tentant de se réfugier aux Etats-Unis. En 1882 elle publie des livres sémites sur le sujet. Prenant à coeur son nouveau rôle d'accueillant, elle ouvre un centre de réfugiés pour les indigents juifs et aide à l'ouverture de l'Institut Technique Hébraïque de New-York, qui avait pour tâche d'offrir une formation professionnelle à ceux ne disposant d'aucune capacité au travail et ainsi leur offrir l'autonomie. À l'île de Ward, elle a travaillé comme aide pour les immigrants juifs qui avaient été arrêtés par les agents d'immigration de Castle Garden. Elle a été profondément émue par le sort des Juifs russes qu'elle a rencontrés là-bas et ces expériences ont influencé son écriture. Il faut dire que ces immigrants étaient très différents des Juifs de la classe supérieure de New York qu'elle avait l'habitude de côtoyer. Elle fut particulièrement étonnée par les juifs américains assimilés qui semblait gêné par ces réfugiés juifs, à cette époque beaucoup de Juifs américains ne voulaient pas être associés avec ces nouveaux venus tout simplement parce qu'ils avaient peur que ces "Juifs différents" affaiblissent leur propre statut social, compromettant leur capacité d'assimilation dans la culture américaine.
Elle poursuit en parallèle sa carrière littéraire en publie de nombreux poèmes. Elle fait également des traductions de poèmes allemands, principalement ceux de Johann Wolfgang von Goethe et d'Heinrich Heine. Elle écrivit également un roman et deux pièces de théâtre en cinq actes. En 1883, face à la lenteur de la levée de fonds pour l'érection du socle de la statue de la Liberté, elle prend position à la demande de William Maxwell Evarts et de l'auteure de Constance Cary Harrison, elle écrit alors un sonnet nommé "The New Colossus" et destiné à la vente aux enchères au profit de l'exposition "Fonds d'emprunt à destination du piédestal de la Statue de la Liberté de Bartholdi" ("Loan Fund Exhibition in Aid of the Bartholdi Pedestal Fund for the Statue of Liberty"). Après avoir été publié dans le New York World de Joseph Pulitzer, ainsi que dans le New York Times, et ainsi avoir obtenu une grande popularité, le sonnet s'est lentement effacé de la mémoire collective. Il a fallu attendre 1901, soit 17 ans après la mort de Lazarus, pour que Georgina Theodora, une de ses amies, trouve un livre contenant ce sonnet (dans une librairie !) et parvienne à ressusciter le travail que l'on pensait perdu. Ses efforts ont porté leurs fruits en 1903, avec la création d'une grande plaque de cuivre sur laquelle ce sonnet a été gravé, et que le visiteur peut voir sur un mur du musée de la statue, dans le socle lui-même.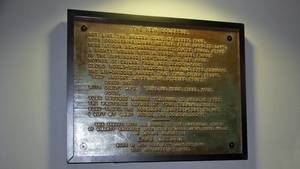 The New Colossus
En 1883 elle effectue un premier voyage en Europe. En mars 1885 son père décède, et deux mois plus tard, en mai 1885, elle effectue un second voyage, toujours en Europe (Italie, Royaume-Uni). Elle réitèrera un tel voyage en septembre 1887 dont elle reviendra fortement affaiblie. Emma Lazarus est décédée deux mois plus tard, le 19 novembre 1887, à New-York, à l'âge de 38 ans. Elle est enterrée au cimetière Beth-Olom à Brooklyn.
Emma Lazarus aura été toute sa vie une importante précurseur du mouvement sioniste aux Etats-Unis. Elle a plaidé pour la création d'une patrie juive treize ans avant Theodor Herzl a commencé à utiliser le mot "sionisme" bien avant qu'il ne soit popularisé. Elle a été honorée par le Bureau du président de l'arrondissement de Manhattan en Mars 2008 et sa maison sur la 10e rue Ouest fait partie du circuit sur l'histoire des droits des femmes et des lieux historiques. En 2012 le Musée du patrimoine juif la met en vedette lors d'une exposition spéciale. Elle était également une des premières admiratrices d'Henry George.
Emma Lazarus a un mémorial à New-York, il est a Battery Park, tout au Sud de Manhattan. Son adresse exacte est Neighbourhood Financial District, NY, US, United States. C'est une plaque de bronze datant de 1955 offerte à la ville par l'Organisation des Fédérations de Femmes Juives.
The New Colossus
Voici le poème dans sa langue originelle, l'anglais. Sa traduction et l'explication du poème se trouve sur cette page qui lui est dédiée.
The New Colossus
Not like the brazen giant of Greek fame
With conquering limbs astride from land to land;
Here at our sea-washed, sunset gates shall stand
A mighty woman with a torch, whose flame
Is the imprisoned lightning, and her name
Mother of Exiles. From her beacon-hand
Glows world-wide welcome; her mild eyes command
The air-bridged harbor that twin cities frame,
"Keep, ancient lands, your storied pomp!" cries she
With silent lips. "Give me your tired, your poor,
Your huddled masses yearning to breathe free,
The wretched refuse of your teeming shore,
Send these, the homeless, tempest-tost to me,
I lift my lamp beside the golden door!